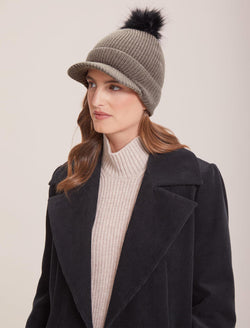 Beata Wool Hat - Taupe
Free UK delivery & returns on orders over £300
A chic addition to any winter wardrobe, the Beata isn't your average bobble hat. Designed in easycare (non-bobbling) merino wool, it has a distinctive cap peak and faux-fur bobble detailing. Pair with our matching Sylvie scarf when the temperature drops.
Hat measures 19.5cm H x 22cm W / 7.7" H x 8.7 W

Product Code: 62121673-261
Care Details:

Dry Clean Only

Composition: 100% Merino Wool, Faux-Fur Bobble
We ship to the UK and internationally, offering a range of Standard, Next Day and Saturday delivery via DPD and DHL depending on destination. Returns are free for UK orders only but we send all exchanges out free of additional postage charge.
"There was a gap for smart daywear that was also modern and feminine. Cue Cefinn..."
The Times
"Minimal but not severe, smart but in no way corporate...it is quite simply, what you want."
British Vogue
"The collection is full of those useful pieces that are surprisingly hard to find - with slick fashion elements."
The Daily Telegraph
Try before you buy with Harper Concierge
We're partnering with premium personal shopping service Harper Concierge so you can try the latest Cefinn styles before you purchase and without the hassle of returns.
1. FILL YOUR BASKET
Place your order, selecting Harper Concierge in the basket. Choose a 1 hour delivery time slot.
2. TRY ON AT HOME
Once delivered, style your pieces with the rest of your wardrobe. We can stay for styling advice, or leave you to it and return after 40 minutes.
3. PAY FOR WHAT YOU KEEP
Your Style Concierge will take payment for anything you want to keep and the rest will be taken away hassle-free.
Find out more